Eddie
---
My best pal, Zippi, has his own page, and so do Roxy & Billie.



Yo! I'm Eddie!



I've been practicing learning to sit on command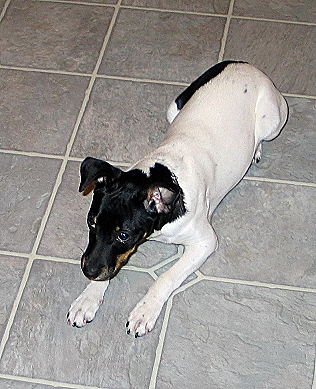 I'm also learning "DOWN" on command. Pretty good, right?



I really like toys!



Especially this cow hoof thingy...yum.



Hmmm where can I go chew this in peace?



Here's a great place, Dad's slipper.



Uh oh...caught!



Heh, Hi Dad (grin)



He's a sucker for my cute look.



Here's me stealing a toy from Roxy. She chased me after this picture..hehe.



Here's me trying to steal a toy from Zippi. He's too tough for me, but we like to play alot so that's kewl.


---

Name: Eddie
Breed: Rat Terrier
Sex: Male - Neutered
Color: White Black Tan
Birthdate: unknown (approx birthday June 2004)
Eddie was found wandering outside on a bitter winter day, freezing cold. A kind stranger found him and turned him over to Planned Pethood rescues, who contacted us about him when no one claimed him. He's a sweet boy who will be a wonderful pet once he finishes learning some basic manners and house training!


---
Changes last made on: Tuesday, 09-Dec-2008 20:51:31 EST