Jack
---
Jack has been adopted to a wonderful new home here in Michigan.
We are very pleased that he's so happy in his new home. Here are some photos from when he stayed with us.
He is a really sweet tempered rat terrier mix.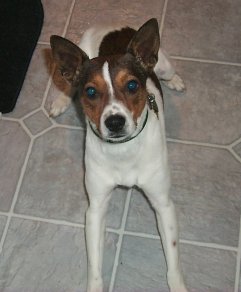 I'm Jack and I think I'm an RT, or Rat Terrier. What do you think?



As you can see, I'm a very nice boy. My manners are good.



And you can see by my looks the girls just adore me.



This is my pal Zippi. He hardly ever looks at the camera cuz he thinks he's a celebrity hounded by the press.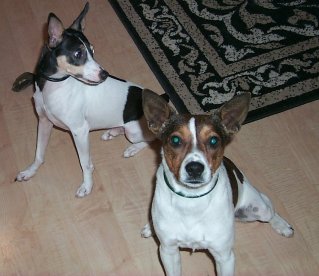 See what I mean?



It would be funny if it wasn't so pathetic!
---

Name: Jack
Breed: Rat Terrier?
Sex: Male - Neutered
Color: White Tan Black
Birthdate: Unknown - approximately two years old in April 2000.
Note: Jack was rescued from the Humane Society in Wooster, Ohio on April 1, 2000. He's no fool!


---
Changes last made on: Tuesday, 09-Dec-2008 20:51:37 EST