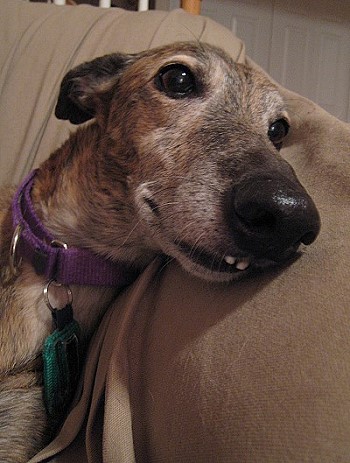 In Loving Memory
Billie the Greyhound Girl
1998-2008
Billie was our beautiful Greyhound girl. Officially she was named RJ's BillyTheKid because early in her life she was a racing dog. They named her Billie because she was such a big girl that she could pass for a male (and garner more bets). According to her paperwork Billie was pretty quick too, but not quick enough. So she came to live with us, as our new couch ornament.
Billie was an extremely sweet natured greyhound girl who was always very patient and tolerant of all the terrier activity bouncing around her.
Billie died this year (Feb 2008) from unexpected complications with bone marrow cancer. She would have been TEN in April.
WELCOME to Billie's Memory Gallery
Here's a short video clip of Billie and Zippi playing in the yard
She was so fast!